About Us
A.G. Brown & Sons is a fourth generation family-owned business with over 60 years of experience in the food industry.
Contact Us
Our History
Our roots, like our business, are in Atlantic Canada.
With father/son duo of Garnet Brown and his son, A.G. Brown & Sons was founded in 1958. Garnet Senior brought experience and wisdom from a 40-year career as a manufacturers' agent. Garnet Junior, at 26, brought a youthful energy and desire to succeed and grow.
 As they grew, they added manpower and depth.
 A.G. Brown and Sons Limited then introduced the concept of selling with local marketing programs to source suppliers for retailers, food service operators and industrial users in Atlantic Canada. Under his direction, the firm successfully launched many brands in Atlantic Canada, which led to the presentation of the Hall of Achievement Award from the Canadian Food Brokers Association, the highest honor given amongst his peers.
 Garnet Jr. received a Doctor of Commerce (honoris causa) from Saint Mary's University for his dedication to his business interests, his political achievements, and his community service.
 Today Garnet's son, Jim, manages the company, having spent over 40 years working with the company in various senior capacities.
Jim, now at the helm, operates in the strong and successful tradition of his father and grandfather. With the recent additions of his sons Tyler and Christopher, and his cousin David Brown, they are now the 4th generation of Browns to work for the company and are primed to keep the business going for generations to come.
Today, A.G. Brown and Sons Ltd. is one of Canada's most prestigious sales and marketing companies in the food industry and specialize in Atlantic Canada. With being the leaders of rep coverage and a proven track record of launching/ building manufacturers and products for over 60 years, AG Brown is the best option to grow your business in the industry.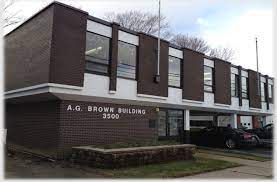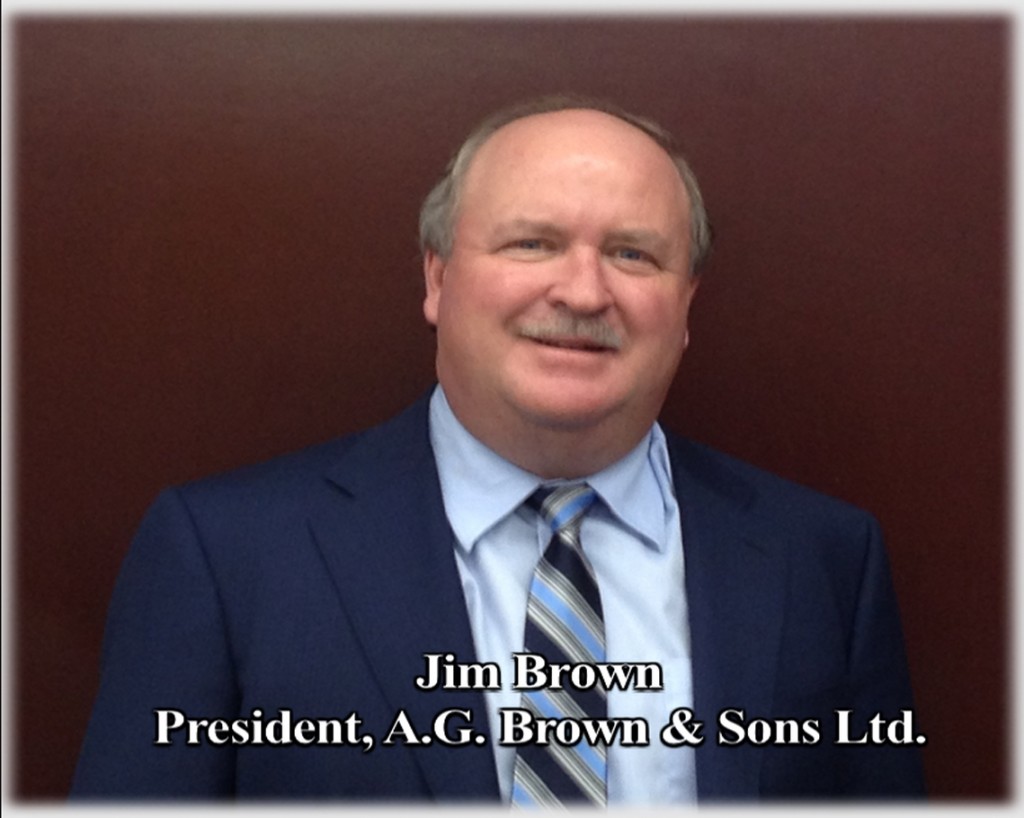 Jim Brown, President
Jim's career in the grocery business began in 1978 when he joined his father's Halifax based "A G Brown & Son" food brokerage firm.
Starting off as a retail rep, he was and merchandising and driving sales for companies like David biscuits, Clubhouse foods, Perrier Water, Mazola oil and General Mills.
After learning the retail business he was promoted to calling on Head Offices and building strategic plans to increase distribution, sales and profit for all supply partners with chains like Sobeys, Foodlands, Wades, Save Easy, IGA, Capitol stores, LoFoods and TRA wholesale.
His knowledge of managing large supply partners was further developed through several companies A G Brown represented through strategic planning, and presentation skill courses, especially with General Mills launches of Honey Nut and Apple Cinnamon Cheerios, Betty Crocker cake mixes, icing and muffins and the newly created Nutritious Portable Foods category.
Striving for growth he led the company in diversifying into the Drug and Mass Merchandiser segments, and helped build a division concentrating on Shoppers Drug Mart, Lawton's Drugs, Pharmasave and PharmaChoice.
Success in this segment started attracting new partners like Revlon, Fujifilm, Mitchum, and Slim Fast to the firm's line up and helped increase share and distribution for a multitude of grocery products new to the drug or mass trade.
In 1992 he took on managing director responsibilities and was named Vice President. In 2010, he became the Co -President.
Since 2012, he is the sole Director and President, and with the recent additions of his sons Christopher and Tyler and his cousin David Brown, they are now the 4th generation of Browns to work for the company and are primed to keep the business going for generations to come.
Recognizing the trend of Natural and Organic products building strength in the United States and parts of Western Canada, he helped form an alliance that continues to launch and merchandise new "healthier" organic products throughout the market.
His career has helped bring and nurture thousands of new products to store shelves across Atlantic Canada with some making it nationally.
He's proud to have solid and experienced thinking players on the team that allow continued support and growth for his suppliers and retail partners. Jim has built a team that can launch and build a strategic plan for dealings at head office; his belief for store work at retail is well known. Their sales force is one of the largest of its kind in the market and are specialists particularly at direct store delivery and fresh or time sensitive dated products.
Today A.G Brown & Sons is well known as a leading sales and merchandising company with partners helping to manage any product throughout the country.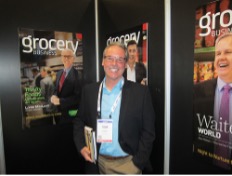 Todd Watson, VP Business Development
Todd is a well experienced senior manager in the Atlantic Canadian Food Industry.
He has built, managed, and launched numerous prestigious companies in our market for over 35 years and specializes in the Grocery, Fresh, Natural and Organics categories. Todd's an expert in helping companies grow sales and distribution.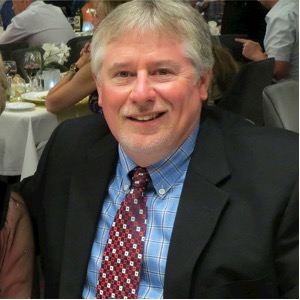 Greg Britten, VP Strategic Sales & New Distribution
Greg is the newest member of the management team at AG Brown & Sons.
He brings vast experience from senior roles with Neilson Cadbury and Kimberly Clark that had him managing leading grocery and drug accounts throughout the four Atlantic Provinces.
Achieving various accolades and sales achievements throughout his career, Greg brings new vision to a well experienced sales organization with his new role.
Don MacLean, Special Consultant
Don brings  a wealth of knowledge and experience to the AG Brown team. He has worked all facets of the grocery business ,and has great vision for  sales growth and distribution for numerous fields and categories.
A specialist in Natural  & Organic Foods, Don and his retail team has led the companies we represent to be among the leaders in the business.